Some musings on the ideals vs. realities in creating a kaupapa driven business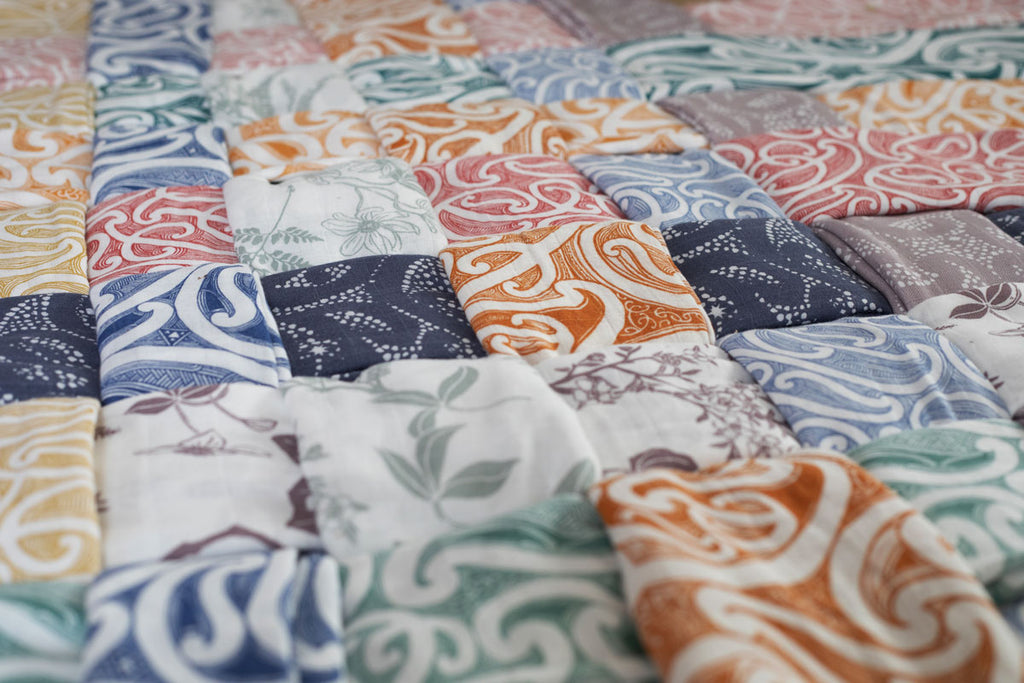 If I were to attempt to describe Aho, I think I'd classify it more as an idealists' project than a business. Somewhere along the way we've become a 'business', but our foundations started in dreams for our Tamāhine, and as a bit of a reaction against a current that felt at odds with our values and our desire to enact a life built on kaupapa Māori values.
It didn't start with with a strategic plan or a profit projection. It started from the sum of many life experiences.
From the desire to wrap our matāmua in threads that would affirm, celebrate and whakanui her whakapapa Māori.
From the desire that these threads be a manifestation of our values. 
That we might understand them and their whakapapa, from the seed to the final product, and the impact that these items have on the world she will inherit. 
We knew that they had to be good for Papatūānuku, and good for people.
We also felt like not knowing these aspects would make us complicit in the ongoing exploitation of land and people-and we just couldn't.
Having had a little taster into the world of Art during art school and beyond- I was compelled to question the place of institutions (like galleries and museums) as the holders of 'culture' and art. These same institutions that many of us rarely set foot in / feel uncomfortable in / have a history of representing the narratives of the powerful whilst misappropriating the cultural heritage of minority/indigenous peoples. I developed a sense that while Art may dwell in these places, art, for the people and by the people, the kind that shifts culture, that exists on the street , in homes and in common spaces.
As someone who wasn't raised on or even near their papatipu marae, and for whom te ao Māori is a world I've only been fortunate to seek out in my adult years, I wanted my children to feel comfortable and 'at home' in their culture and identity in a way that they wouldn't have reason to question it. Like a first language, or a 'blank' page being white. 
That they wouldn't need to go to 'places of culture' , whether a Marae or an institutional 'holder of culture' to feel a connection.
The whakataukī "
He tangata I akona ki te whare, tūnga ki te marae tau ana – A person taught at home, will stand confidently in the community." Came to mind.
As a visual person, for me, this meant finding, interpreting and adapting a visual language for our home. The place where we spend the most time, and the place we form our identity.
These were the motivations- but there were also reactions. A fighting against the current.
There is the perception that organic and fair trade products are prohibitively expensive.
There is the reality that many brands use these fair trade/ organic credentials to inflate prices which makes them accessible to the very few.
There is the truth, that organic, sustainable (not dousing land and whānau in toxic pesticides), and fair trade (treating people with human dignity) should be the standard, not a nice-to-have.
There is the reality that due to many many factors over many many generations, Māori are statistically more likely to be adversely affected by unemployment and poverty whilst also being disconnected from their cultural heritage.
There is a reality that over generations of colonisation, Māori have been represented in an impoverished, deficient, negative light and finding a sense of pride or mana in being Māori hasn't been much of a lived experience for many.
There is the truth that some of the greatest beauty, deepest truths, most profound ways of seeing and being and relating are woven into the very fabric of Te ao Māori, mātauranga Māori and Te Reo. That in learning and embracing the wisdoms of our tūpuna, we can stand tall and staunch in the knowledge that we stand on the shoulders of giants. That in grounding ourselves in some of these counter-cultural  widsoms, we can rise higher than ever before, on our own terms.
So here's where it gets messy.
We wanted to source the highest quality, most sustainable, fair trade organic cotton as an embodiment of our kaupapa Māori values. Kaitiakitanga (in this case, environmental stewardship as enacted by organic practices, We also know that organically grown cotton will be biodegradable wherever it ends up, without contributing either pesticides or micro-plastics to its environment.). 
Mana tangata (a fundamental believe in valuing and putting people at the heart, aka, fair trade). 
If we're creating things that embody our cultural narratives, we want them to be the highest quality. Not touristy knockoffs, but something that we're actually proud to have and share and value within our own homes. Something that actually represents us and our values.
We wanted to get these top quality products into the homes of whānau to not only serve a practical purpose, but also to contribute to normalising and developing a visual language and identity that is grounded in whakapapa and belonging.
In order to get them into the homes of whānau, they need to be accessible and affordable.
Affordability, we tend to measure against other things that already exist that serve that function.
Most of the things that exist already are neither organic, fair trade, nor made in small print runs for a small business.
It also turns out, that we still have to feed our whānau for it to be sustainable to continue on in this idealist pākihi waka 🙂
In order to keep our products affordable for whānau, we discovered that wholesaling them onto retailers wasn't exactly going to work. Although we would potentially get more exposure this way, the retail price would be significantly more. 
In contrast, by selling direct to you, there are no 'middle men' , no expensive physical retail spaces to pay for, and you pay less.
We're conscious that even with our best efforts, our products will never be 'cheap'. They are, after all, made from the highest quality materials and production values we could source and last for years.
To do our best to continue to make them accessible regardless of their price, we partner with Iwi and other charitable kaupapa, such as Hapu Wananga to distribute to whānau for whom they might currently be beyond the budget (please feel free to get in touch if you think this may apply to your organisation)
We offer an old school lay by payment option to those of you who'd like to pay off items over a 6 week period (You can read a little more about why we don't offer buy-now pay-later type options here)
So, in the meanderings of a small business and a bunch of dreamers, these are some of the many things we've learnt as we've tried to build a business on a foundation of Kaupapa Māori.
As you can see, we're not experts. We welcome your whakaaro and feedback. We hope it might plant a seed in some way.
We have a hunch that if living and running businesses came from a foundation of Kāupapa Māori Values, not only could we thrive, but that, in the footsteps of our tūpuna, we'd be some of the best damn entrepreneurs around.